March 2015:
Just finished mixing the trio recording with Kazumi Ikenaga and Koichi Osamu from Volta studio last summer. Stay tuned for info about release.
October, 2014
Many new international reviews of Fosfor, go to reviews page
September, 2014
The trio recording With Kazumi Ikenaga and Osamu Koichi will be mixed by Ulf Holand, one of Norway's most acclaimed sound engineers. Release sometime in 2015…
HAKON STORM in JAPAN 2014
as of June 23, 2014
FRI JUL18
19:00-21:00 Gig at Jazz Cafe Lyon, Hakodate.
SAT JUL19
2 concerts at Daimon Jazz Festival at Daimon Green Plaza in Hakodate.
12:35-13:05  Solo
18:50-19:50  Trio
SUN JUL20
Hakodate Tsutaya Book Store Stage.
15:00-16:00 Live & Talk Session (Hakon Storm, Emiko Tayanagi)
16:30 CD sales finish
THU JUL24
Gig with Jesse Forest group.
Venue: Jazz on Top ACT 3 (T: 06-6311-0147)
Hakon Storm, g
Jesse Forest, g
Thomas Posner, b
Genki Hashimoto, ds
FRI JUL25
Venue: The Little Clover (T: 080-3785-0454)
#207, Misono Bldg.2F, 2-3-9, Sennichimae, Chuo, Osaka
Sax: Gilad Atzmon (UK)
Drums: Eric Wiegmann (USA)
Bass: Guenter Ishi (Germany)
Guitar: Hakon Storm (Norway)
19:30-20:20 1st Set
21:00-21:50 2nd Set
SUN JUL27
Gig at KAMOME with the "Somethiing new".
Somethiing new (two 'i' s) is a duo unit with Akane Noguchi (p)
and Yoshiaki Kayano (tp).
Hakon Storm (guitar, special guest)
Yoshiaki Kayano (tp and ukulele)
Akane Noguchi (p and keyboard harmonica)
Satoshi Kaseda (percussions)
Masahiro Sawada (bass)
1130 Open
1200-1430 Gig (2 sets)
MON JUL28
Gig at Tokyo TUC.
First Set: Gig with the Rikkyo University New Swingin' Herd Big Band.
Second Set: Gig with Koichi Osamu (bass) and Kazumi Ikenaga (drs)
18:30 Open
19:30-20:30 First Set (Hakon + Big Band)
20:45-21:45 Second Set (Hakon Trio)
TUE JUL29
Recording with Osamu and Ikenaga at Studio DAY 1.
WED JUL30
Recording with Osamu and Ikenaga at Studio DAY 2.
March 30, 2014 –  Fosfor reviews keep coming in. Ingo Andruschkewitsch, Musik an sich rated it 20 of 20.
Read this, and other reviews in the reviews page
New solo cd, Fosfor, to be released Feb 12th, 2014.
Release concert at Kulturhuset, Oslo feb 12th 19:00
Winther-Storm tour dates January 2014:
Sat 25-01-2014 – 20:30  Winther-Storm – Loft – Cologne
Sun 26-01-2014 – 16:00  Winther-Storm – Roode Bioscoop – Amsterdam
Mon 27-01-2014 – 20:30  Winther-Storm – – Amsterdam
Tue 28-01-2014 – 20:00  Winther-Storm – Badcuyp – Amsterdam
Wed 29-01-2014 – ??:??  Winther-Storm – live at Radio 6
September 2013: Ten 'Spinnaker' quotes from the german press: SpinnakerQuotesDE
June 12th: We are excited to announce that Spinnaker won the jazz album category in the 2012 Independent Music Awards.
April 15th: Spinnaker is nominated for 12th Independendent Music award
Complete press release Winther-Storm 12th IMA
www.independentmusicawards.com/imanominee/12th/Album/Jazz
Winther Storm are Among Nominees of The 12th Independent Music Awards among other great artists as Paolo Fresu, Omar Sosa, and Jamie Ousley.
March 13th: More recent german reviews in the reviews page
March 07: New video, from session in Colive, february 2013 Video page 
Feb 15th: Spinnaker gets 12 out of 15 stars in  this nice review by Andreas Schiffmann at musikreviews.de
Quote: "WINTHER-STORM are still Nordic jazz without its clichés …"
Feb 10th celebrating the dutch release of Spinnaker, Winther-Storm appears at radio6 show Colive tonight. http://ymlp.com/zJnPtu
Dec 13th: Spinnaker gets a nice review in Petter Pettersson in the December issue of Norwegian Magazine Jazznytt
My 2012 Japan tour is taking place Oct 26th – Nov 4th. This will be my 4th tour in Japan. I will play eight concerts, in Osaka, Minami, Tokyo, Hakodate, and Yokohama.
For details, click: http://www.stormjazz.com/hakon-storm-japan-tour-2012/
Winther-Storm is releasing a new CD "Spinnaker" (Norcd1217)
Sound clips : http://www.stormjazz.com/audio/
The official release will be with two concerts in Norway The coming period it will become available internationally
October 17th 2012 Jazzforum Herr Nilsen, Oslo
October 19th 2012 Dølajazz, Lillehammer
It is possible to book the band for next year and hear the new music live!
Håkon Storm guitar – Thomas Winther Andersen double bass – Mark Coehoorn drums – Natalio Sued – saxophone
Winther Storm is supported by Norsk Kulturråd for concerts in Norway 2012/13

Press release in the press page 
September 22nd, 2012: I am honoured to be included in the Japanese guitar magazine "Jazz Guitar Book" vol.34, available from Sept 22. This issue contains, among lots of other things, interviews of Robben Ford, Scott Henderson, Larry Carlton, John Herrington, Mike Stern, Shusaku Yamano, Hironobu Saito, Chico Pinheiro, Houkon Storm. The Jazz Guitar Book is only available in print, and in japanese. An english version of the interview by Hiroyuki Yamanaka can be found here: JazzGuitarBook_Vol.34_HakonStormInterview

September 16th: Solo record Zinober featured in the radio show VPROjazzLive on dutch Radio6, along releases from Michiel Borstlap and Louis Sclavis.
The show is available for streaming for a limited period: http://vprojazzlive.radio6.nl/2012/09/16/rima-kcheich-schoonheid-in-traag-tempo/
These tracks were included:1. Scamsacker  (12 sn) 2. Waterfront (8 sn bariton) 4. Zinober  (12 sn) 5. Soldatsang (met vibesware guitar resonator system!) 10. Miramis  (12 sn) 13. Detuned  (12sn), een 'expres-out-of-tune improvisatie)
July 21st: Great review of Zinober in Holland's top newspaper deVolkskrant.
Frank Van Herk in deVolkskrant July 2012  (rating: 4 out of 5)
Dutch review of Zinober from Jazzflits.nl_June2012
A nice review of Zinober by Jan Granlie in Jazznytt03_2012(english translation included).
June 10th: Zinober is promoted in BeNeLux. Here's a link to presentation from Musiqstore.nl.
May 25th: My 4th tour in Japanhas just been confirmed. The tour will take place Oct. 25th-Nov 5th, and will include concerts in Tokyo/Yokohama area, Osaka, and Hokkaido. Stay tuned for updates, and feel free to contactme for additional booking.
May 15th: Zinober has received nice attention in Germany, including plays on several radio shows. Here's an in-depth reviewby Henning Sieverts in his program jazz today , among other solo releases from Saxophonist Peter Materna, french bass player Renaud Garcia-Fons, and british flutist Geoff Warren.
Zinober review on spillelisten.no
April 19th. Check out this video by Torgrim Sollid from November 2011:

April 10th. Solo album Zinober gets great reviews in Germany
Go to reviews page

Cover photo by Øyvind Næss Cover design by Jonas H. Sjøvaag
  *
March 31. Zinober is mentioned in the guitar section of japanese  diskunion jazz tokyo blog, with other new releases by a.o. Mike Moreno and Jacob Bro. The blog is a store of "diskunion JazzTOKYO" the world's largest museum specializing in jazz. The discription translates (approximately): "Details of the experiment and a good sense of transparency of unique Scandinavian player will bring a vivid impression."
March, 2012
Zinober will be released in Germany march 30th.
February, 2012
Winther-Storm will perform a few shows in Holland early March:
Wed 29-02-2012 – 23:00  VPRO Jazz Live – Radio 6
Fri 02-03-2012 – 16:00  Mijkes middag Radio 6 – Amsterdam
Sat 03-03-2012 – 21:00  Jazzpodium DJS – Doordrecht
Sun 04-03-2012 – 16:00  Cafe Miles – Amersfoort
*
January, 2012
First Norwegian reviews of solo album Zinober
"Håkon Storm forteller oss med "Zinober" kanskje tydeligere enn noen gang at han er en musikant av meget høy internasjonal klasse. Er det noen form for rettferdighet i den musikalske verdenen så vil den virke som en solid døråpner."
Tor Hammerø, Nettavisen side2, jan 10th                   Norsk            English by Google translation
"Det må vere årets snadder både for gitarfrelste og andre…"
"Han er alltid spennande å lytte til, og med dette albumet har han meistra kanskje den største utfordringa så langt, med glans."
Roald Helgheim, Dagsavisen jan 7th
"…med overveldende teknikk presterer Storm å føye det meditative og ekspressive sammen på nesten utrolig vis."
"«Zinober» er omtrent så langt fra å være et innsmigrende gitaralbum som det går an å få det, men bak det noe labyrintiske førsteinntrykket åpner det seg en verden som er vel verdt reisen dit."
 Terje Mosnes, Dagbladet jan 11th                                                                                     
Norsk
English by Google translation
More reviews in the reviewspage
*
December, 2011
Solo album Zinober will be available from january 6th, 2012.
Release concerts:
jan. 11 wed 16:00 Bare jazz,  Grensen 8, 0159 Oslo
jan. 16 mon 19:30 Norges Musikkhøgskole, Levinsalen, Slemdalsveien 11, 0302 oslo
More solo concerts to come
Check out the audio page for samples.
*
November, 2011
New album: Zinober
My new solo album will be released on Norcd in january, 2012. Zinober was recorded this summer by the legendary Jan Erik Kongshaug in Rainbow studio, Oslo. The album is only myself in the studio, playing seven different guitars, mostly acoustic. I am happy to finally be able to present this album. Please come back soon for audio samples and info.
*
October, 2011
Winther- Storm on tour in 2011/12
http://www.sonicbids.com/wintherstorm
Winther-Storm plays concerts in Holland, Germany and Norway 2011- 12
Saturday 08/10 2011 21:00 Artishock, Soest
Thursday 17/11 2011 21:00 Mahogany Hall, Edam
Friday 18/11 2011 16:00 Radio 6 Mijkes Middag, MC Theater, Amsterdam
Saturday 19/11 201120:00 Regentenkamer,Den Haag
Monday 21/11 2011 20:00 Deense Kerk, Rotterdam
Wednesday 23/11 2011 20:30 Herr Nilsen, Oslo, Norway
Friday 6/01 2012 20:30 Bimhuis, Amsterdam
Saturday 07/01 2012 21:00 Jazzclub Cave 6, Heilbronn, Germany
Saturday 03/03 2012 21:30 Jazzpodium DJS, Dordrecht
Sunday 04/03 2012 16:00 Cafe Miles, Amersfoort
It is still possible to book the band around these dates for additional concerts.
Håkon Storm guitar – Thomas Winther Andersen double bass – Mark
Coehoorn drums – Natalio Sued – saxophone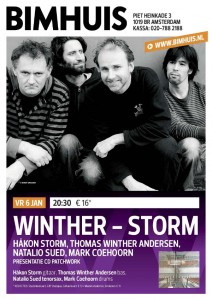 *
Please check out the reviews page for recent reviews of the Patchwork album.
*
June, 2011
Currently working on my solo project. More info and samples will be uploaded soon.
*
May, 2011
Winther-storm is playing a number of concerts in Norway, Holland, and Germany in the fall/winter of 2011-12.
*
CD Release
Winther-Storm Patchwork (NORCD 1096)
New album November 2010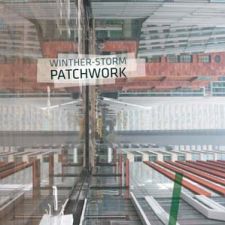 Release tour
November 24, 21:30 Concert  Badcuyp,  Amsterdam
November 25, 14:00: Amsterdam FM "Jazz uit de Bieb"
November 26, 16:00: radio 6 "Mijke's Middag"
November 26, 21:00 De kombinatie,  Den Haag
November 28, 20:00  Victoria Nasjonal jazz scene,  Oslo
Håkon Storm – Guitar (N)
Thomas Winther Andersen – bass (N)
Natalio Sued – Tenor saxophone (Argentine)
Mark Coehoorn – Drums (Nederland)
www.sonicbids.com/wintherstorm
Press pictures:
www.twandersen.com/fotos/wintherstorm.jpg
www.twandersen.com/fotos/wintherstorm_faces
Patchwork's sound contains blues riffs, intense modal improvisations, dreamy ballads and jazz harmonies. With a fresh rhythmic approach, these versatile musicians have created an original album in terms of both structure and sound.
Winther-Storm blends effectively an acoustic and electric sound into a dynamic whole.  Inspiration comes from a wide specter of jazz developments from the last 50 years, with a few sidetracks into both rock and contemporary classical music.  The repertoire is mainly composed by Håkon Storm and Winther Andersen.
The group was founded in 2009. Three nationalities, original compositions and the meeting point in Amsterdam was the setting for their first CD recording.  The cooperation between the Norwegian guitarist and bassist goes back more than two decades. Together they also recorded two CDs with the band Line Up, featuring Jimmy Halperin on saxophone: Out From A Cool Storage and Line Up